" ATV-DEAD OR ALIVE "
Welcome To " ATV Dead or Alive "
We buy and sell ATV-ATC used parts and machines . We have engines ,frames, chassis parts ,exhaust ,electrics,carbs,plastics,seats,controls, swingarms,wheels tires 4-wheel drive parts and much more. Let us know what you need and we'll get back to you asap with the info.
Last update 5/ 1/ 22. ......QUADS FOR SALE"..... ....2006 HONDA FOREMAN ES 500 4x4 W/NYS. Reg.$3500 .............................PRICE REDUCED. $4150 .......National MX 2002 Honda Four Stroke Tech 500ex , (Engine ) Built by Mickey Dunlap FST, National engine, and made faster by Bristol Racing, Fresh rebuild 0 laps,full race cam & port ,big valves Titanium. retainers . Full Hinson clutch assembly new trans gears , Full Gibson front end & rear swingarm w/ Custom axis double adjustable full race shocks , Very Low Hrs. excellent condition , Frame is straight no cracks ever :Powdercoated Silvervein, Modified & gusseted by JEMBS Performance, Billet parts,titanium bolts , 2 complete sets DWS Billet beadlock wheels best of everything.THIS QUAD IS fast . 3 holeshots @ 3 Nationals NOT AFRAID OF ANY QUAD!!!....0ver thirteen grand cost to build ..... Plus Tons of extras .save $.....Located in Syracuse NY Email atvdeadoralive@gmail.com for phone #
For Sale ATV Photos available on ATV For Sale page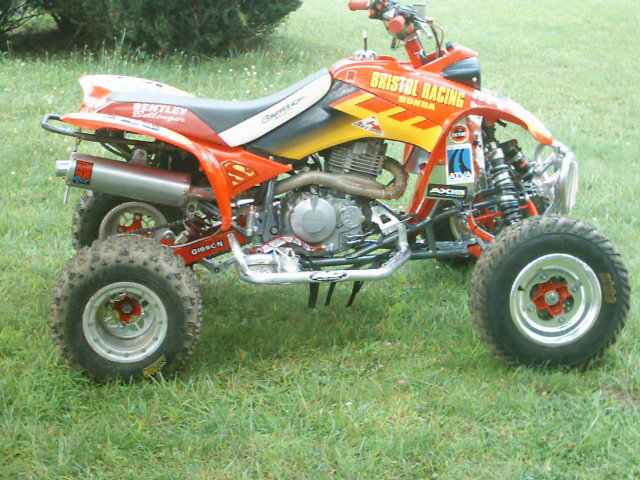 Bentley Bellinger's #129 Race quad
Bentley's girl, Motorsports Model Joanna Dot
atvdeadoralive@gmail.com
The Best MX - XC Track on the Planet MOTOMASTERS
http://www.motomasters.com